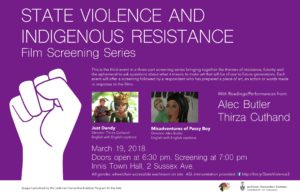 State Violence and Indigenous Resistance Film Screening Series
This is the third event in a three-part screening series bringing together the themes of resistance, futurity and the ephemeral to ask questions about what it means to make art that will be of use to future generations. Each event will offer a screening following by a respondent who has prepared a piece of art, an action or words made in response to the films.
Just Dandy
Director: Thirza Cuthand
English with English Captions
Misadventures of Pussy Boy
Director: Alec Butler
English with English Captions
With Readings/Performances from Alec Butler and Thirza Cuthand
March 19 2018
Doors open at 6:30 PM. Screening at 7:00 PM.
Innis Town Hall, 2 Sussex Avenue
All gender, wheelchair-accessible washroom on site. ASL interpretation provided.