History
The idea of Deaf Spectrum popped up in 2013 when the founder, Sage Lovell, moved to the metropolitan city of Toronto and realized that accessible services, information, and resources available in American Sign Language (ASL) were lacking.
In 2015, Deaf Spectrum was formally launched with a series of promotional vlogs in ASL. In our beginning stages, we offered services to the broad community including but not limited to arts & culture, post-secondary, community, education, health, and more.
Since the beginning of 2022, we have completely shifted our focus on elevating and creating opportunities for Deaf Arts and Culture in Canada.
Mission Statement
Deaf Spectrum focuses on elevating and creating opportunities for Deaf Artists residing in Canada to participate in the Arts and Culture Sector. Deaf Spectrum also offers the Deaf Audiences' perspectives and provides consulting on accessibility options to make the art accessible for the Deaf Community to enjoy.
Why Work With Us? 
Deaf Spectrum is one of the most professional businesses in Canada that is designed to meet the needs of Deaf Artists, Deaf Audiences, and Deaf Patrons. We believe in the top-notch quality of American Sign Language (ASL) accessibility. Deaf Spectrum strives to provide the best services possible and that means that we will continue to apply our learnings to our work. We have been in this industry for more than eight years now. The founder of Deaf Spectrum, Sage Lovell, has more than twenty-five years of experience in the Theatre Industry working in various capacities. In the past, Deaf Spectrum has successfully put a number of Deaf Artists on the map and influenced many art organizations to consider incorporating American Sign Language (ASL) accessibility into their work, creating more opportunities for Deaf Artists to thrive. As we continue to grow and evolve, we will continue to support the Deaf Community to be part of the arts and culture scene in Canada.
Deaf Spectrum has a clientele that includes but is not limited to: Tangled Art + Disability, The Theatre Centre, Canadian Hearing Services, Unit 2, Young People's Theatre, Canadian Broadcasting Company, Reelabilities Film Festival Toronto, Creative User Projects, Calgary Arts Development, Ontario Arts Council, Hot Docs Canadian Documentary Festival, Roseneath Theatre, The Factory Theatre, Buddies in Bad Times Theatre, Toronto Fringe, ReDefine Arts, STEPS Public Arts, ArtWorksTO, SummerWorks Performance Festival, Crip Rave Collective, and so much more.
What Do We Offer?
Deaf Spectrum offers a range of services. A full list can be found here.
Our main services include vlog productions, event/opportunity circulation, consultation, mentorship, and workshops. Vlog productions include but are not limited to American Sign Language (ASL) translation of promotional material, exhibition statements, call for submissions, etc. Event and Opportunity circulation is a service that gets information out to a targeted community: The Deaf Community and its supporters.
We circulate information through the means of text, photo, and video materials on social media platforms, YouTube, and disseminate it through our Newsletter. Consultation services are available to assist non-Deaf organizers to create accessible opportunities for Deaf Artists and Deaf Audiences to participate.
Mentorship is a new service (soon to be formally announced) that is designed to support Deaf Artists to navigate the arts sector in Canada – there will be a resource available to help Deaf Artists apply for funding to access mentorship. Mentorship can be offered for ASL-English Interpreters, Aspiring Interpreter Coordinators, Access Providers, Art Organizers, and more!
About The Team
The Core Team of Deaf Spectrum consists of Sage Lovell, Gaitrie Persaud-Dhunmoon, Alexandrose William Dayment, and Melissa Brunner.
Sage Lovell (they/she) (Founder/Director)
Sage Lovell (they/she) is an artist, writer, and entrepreneur. Being Deaf, Queer, Disabled, and Neurodivergent; they are an artist who likes to work their magic, using different art mediums to shift perspective and spaces. Over the past decade, Sage has worked with different communities in multiple capacities to develop meaningful work that continues to evolve. With their multitude of talents, they were able to incorporate their passion for interweaving media, language, performance, and accessibility into works of art. Their post-secondary experience at Gallaudet University made them realize that sign language accessibility is possible!
In 2020, Sage won an award from ArtEquity for their advocacy in the arts community. In 2019, Sage was a finalist for the Community Arts Award (Toronto Arts Foundation). In 2018, Sage won the 2nd place Defty Award (Canadian Cultural Society of the Deaf) for their ASL poetry production of "The Four Elements." Sage is also the founder of Deaf, What? and That Deaf Witch.
(Image Coming Soon!)
If you want to connect with Sage, feel free to contact them/her at [email protected]
Gaitrie Persaud-Dhunmoon (she/her) (Vlogger & Facilitator) 
In Partnership with Phoenix The Fire
(Image & Bio Coming Soon!)
If you want to connect with Gaitrie, feel free to contact her at [email protected]
Alexandrose William Dayment (they/fey/he) (Video Coordinator)
(Image & Bio Coming Soon!)
If you want to connect with Alexandrose William, feel free to contact they/him at [email protected]
Melissa Brunner (she/they) (Communications Coordinator)
Melissa Brunner (she/they) is a Deaf, Queer, Disabled, and Mad multi-disciplinary and insightful visual artist. Her slow dance with visual artistry goes hand in hand with their favourite medium, watercolour. Their work is mainly composed of portraits with the key theme of capturing mood and emotion but they are currently pushing the boundaries of what she is comfortable with. She adores navigating facial expressions, and various poses and carefully carving out lines to layer bright shocks of colours in her work. She began doing commission work in 2020 which eventually led to their artworks being exhibited along with five other Deaf artists that were developed during a three-month online incubator for Deaf Interiors, an online exhibition in 2021. She has a passion for community engagement and collective care, in particular for the deaf and hard of hearing 2SLGBTQIA+ community.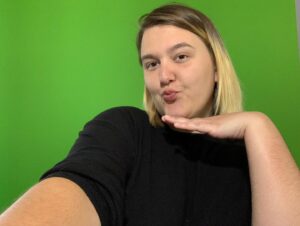 If you want to connect with Melissa, feel free to contact her/them at [email protected]
On-Call/Contractors
Deaf Spectrum works with a number of Deaf artists who offer their services on an "on-call" or contractual basis.